Your Participation Will Help Find Alternatives to the Death Penalty
---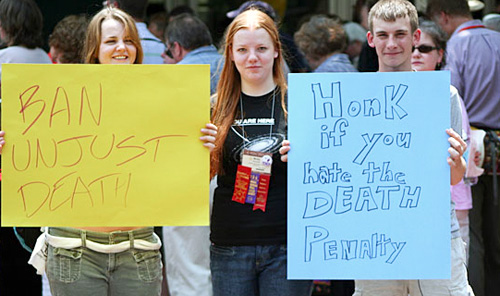 It's Easy to Make a Difference!
Support Unitarian Universalists for Alternatives to the Death Penalty
JOIN!
Be an ambassador. Talk to others about joining. Ask your Social Action Committee to join.
Contact us about membership.
After clicking the link above, you'll be at our Yahoo! site.
Click on the "Join This Group" button.
You will see a place to sign in if you already belong to a Yahoo group, and follow the prompts from there.
If you are new to Yahoo groups, there will be another place for you to click and set up an account.
After filling in your information, just click the "JOIN" button, and Yahoo will get you approved by the group moderator.
If you have trouble, let the group moderator know by email:
UUADP-owner@yahoogroups.com
.
BE VISIBLE:
Wear a T-shirt. Wear a button. Put a bumpersticker on your car.
Order your UUADP logo items online.
RAISE CONSCIOUSNESS:
Make a poster for your congregational bulletin board.
Place UUADP brochures on your Social Action literature table.
Request a sermon, or give one. Arrange for outside speaker.
Organize a workshop.
Organize a discussion group (e.g. on Dead Man Walking).
Donate a book to your congregational library.
DEMONSTRATE:
Take part in vigils. Help in organizing rallies.
WRITE:
Send letters to editors, and State and Federal legislators.
OFFER COMPASSION:
Write to a death row inmate. Offer support to a family of a death row inmate.
EDUCATE YOURSELF:
Read some of the many books on this subject. Clip relevant newspaper articles. Keep informed on local cases. Keep informed on Death Penalty needs in your state.
JOIN WITH OTHERS:
Join local coalition group. If there is no local group, organize one. Contact your state death penalty organization.
GET CREATIVE:
Use this list as a check list, and add your own ideas. Share your ideas with us.
Give a Donation Online and
Join Unitarian Universalists for Alternatives to the Death Penalty

---
You are invited to join Unitarian Universalists for Altneratives to the Death Penalty by giving a donation online. Or, you may provide a donation without membership.
Please set your membership dues based upon your ability to pay $25, $35, $50, $100, or other appropriate amount. We will enter your membership when receive your donation, unless you tell us in the "Do You Want to be a Member" blank that you do not want to be considered a member.
Please also use the "Do You Want to Be a Member" area on the PayPal form to tell us your home congregation and to tell us if your gift is in memory or in honor of someone.